Stereoscopy Is Good for You: Life in 3-D (Hardcover)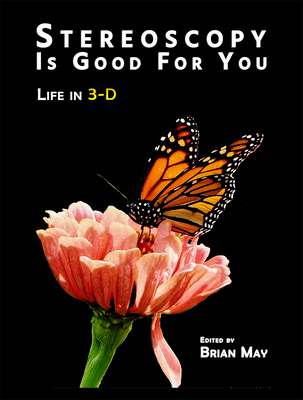 List Price: $40.00
Our Price: $32.00
(Save: $8.00 20%)
No longer available to order.
Description
---
At the start of the pandemic Brian May and The London Stereoscopic Company called out to the world to capture moments of pure joy through stereoscopic (3-D) photography.
The flow of pictures has never stopped and the results are astonishing, with captivating images submitted, over the course of two years, from UK, Australia, Brazil, France, Italy, Tanzania, Paraguay, Spain, Thailand, United States, Zanzibar and many more countries. As founder of The London Stereoscopic Company, Brian has selected the most impressive photos. Each image is accompanied by the name of the photographer, their country and an inspiring quote describing the joy behind their subject.
A book for not only those into stereoscopic (3-D) photography but for everyone interested in nature, photography and the human condition. A moment in history locked down in a compact and beautiful book.
Brian May says, "We, the London Stereoscopic company, invited contributions. The result was an avalanche of great material, and it was then a labour of love to choose the ones you will find here. You will see an amazing breadth of invention. Some people took their smartphones into their garden if they were lucky enough to have one, capturing flowers, plants and garden creatures. Some snapped the newly appreciated beauty of their immediately surrounding landscapes on permitted walks. And some even turned their cameras to the sky. Some created purely virtually on their laptops - creating landscapes, both terrestrial and cosmic. You will see it all here."
About the Author
---
Brian May CBE, PhD, ARCS, FRAS, is a founding member of the rock group Queen, a world-renowned guitarist, songwriter, producer and performer, authority on 3-D stereoscopic photography, a passionate campaigner for animal rights and welfare, and an advocate for political and social change. His PhD thesis A Survey of Radial Velocities in the Zodiacal Dust Cloud was published in 2007, and he is the co-author of eight books on astronomy, space, and historical stereo photography, and the solo author and photographer of the bestselling book on the history of his own band: Queen in 3-D, published in 2017. Brian was Chancellor of Liverpool John Moores University 2008-13, has received three Honorary Doctorates and holds the post of visiting researcher at Imperial College. Asteroid 52665 Brianmay was named in his honor, and in 2015 he was appointed Science Team Collaborator for NASA New Horizons mission, assembling the first ever stereo images of Pluto. Brian is currently engaged in many other collaborations with NASA, ESA and JAXA, producing stereo images of solar system objects.