Story Genius: How to Use Brain Science to Go Beyond Outlining and Write a Riveting Novel (Before You Waste Three Years Writing 327 Pages That Go Nowhere) (Paperback)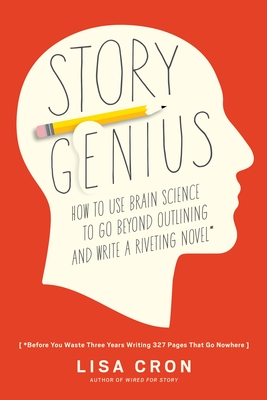 List Price: $15.99
Our Price: $12.79
(Save: $3.20 20%)
In Our Warehouse! Usually Ships in 2-6 Business Days
Description
---
Following on the heels of Lisa Cron's breakout first book, Wired for Story, this writing guide reveals how to use cognitive storytelling strategies to build a scene-by-scene blueprint for a riveting story.

It's every novelist's greatest fear: pouring their blood, sweat, and tears into writing hundreds of pages only to realize that their story has no sense of urgency, no internal logic, and so is a page one rewrite. 

The prevailing wisdom in the writing community is that there are just two ways around this problem: pantsing (winging it) and plotting (focusing on the external plot). Story coach Lisa Cron has spent her career discovering why these methods don't work and coming up with a powerful alternative, based on the science behind what our brains are wired to crave in every story we read (and it's not what you think). 

In Story Genius Cron takes you, step-by-step, through the creation of a novel from the first glimmer of an idea, to a complete multilayered blueprint—including fully realized scenes—that evolves into a first draft with the authority, richness, and command of a riveting sixth or seventh draft.
About the Author
---
LISA CRON has worked as a literary agent, a TV producer, and a story consultant for Warner Brothers, the William Morris Agency, and many others. She is a frequent speaker at writers' conferences, and a story coach for writers, educators, and journalists. She teaches in the UCLA Extension Writers' Program, is on the faculty of the School of Visual Arts MFA in Visual Narrative Program, and is the author of Wired for Story. She splits her time between Santa Monica, California, and New York, New York. 


Praise For…
---
"Using brain science, Cron busts the myths of good writing to help you find the real story behind all that plot and metaphor."
-- The Writer

"In [Cron's] new book, Story Genius, she picks up the. . . theme. . . that a protagonist's internal struggle makes the story work, and offers step-by-step advice on how to exploit this truth about neuroscience for richer, deeper, better first drafts. . . .Cron provides exercises and examples to keep writers on track, always highlighting the fact that emotions engage the brain faster than anything else. . . .The concepts are easy to understand and they are certainly important. Even if you can't go on a retreat, you should try to find time to do the exercises for your own blueprint."
-- PsychologyToday.com

"It's a simple question: 'How do you write an effective, engaging story?' Ask Lisa Cron. An accomplished author and story coach, she has just published her second book, Story Genius. A manual of sorts, it teaches cognitive storytelling strategies and uses actual brain science to help make its readers into better writers."
-- Creative Screenwriting

"Cron, author of Wired for Story, proposes this new book as the answer to the question, What's the biggest mistake writers make? She uses psychology and other sciences to explain what makes an utterly compelling story and how to write one. . . .Novice writers looking for a step-by-step guide to how to build—or fix—their novel might find a lot of useful information in here. . ."
-- Publishers Weekly

"Lost in the quagmire of trying to write a novel? Well, forget everything you've ever been told about story, because chances are, it's totally wrong. So where to turn? Story guru Cron not only gives you the skinny on why and how stories work (and why and how we respond to them), she also shows you how to craft a novel step by step, working with author Jenny Nash from the germ of an idea to a living, breathing story. I'd never consider writing a novel without Lisa's input, and neither should you."
-- Caroline Leavitt, New York Times best-selling author of Is This Tomorrow and Pictures of You