Firestarter (Timekeeper #3) (Hardcover)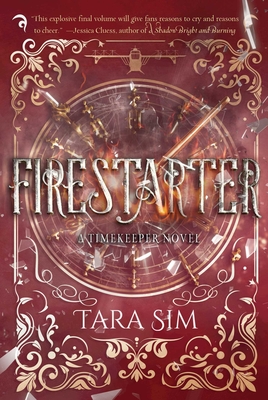 List Price: $26.99
Our Price: $21.59
(Save: $5.40 20%)
Other Books in Series
This is book number 3 in the Timekeeper series.
Description
---
"You won't be able to put this one down." —Huffington Post (on Chainbreaker)

Here is the final installment of the Timekeeper trilogy (following Timekeeper and Chainbreaker), the crew of the Prometheus is intent on taking down the world's clock towers so that time can run freely.

Now captives, Colton, Daphne, and the others have a stark choice: join the Prometheus's cause or fight back in any small way they can and face the consequences. But Zavier, leader of the terrorists, has a bigger plan—to bring back the lost god of time.

As new threats emerge, loyalties must shift. No matter where the Prometheus goes—Prague, Austria, India—nowhere is safe, and every second ticks closer toward the eleventh hour. Walking the line between villainy and heroism, each will have to choose what's most important: saving those you love at the expense of the many, or making impossible sacrifices for the sake of a better world.
About the Author
---
Tara Sim can typically be found wandering the wilds of the Bay Area in California. When she's not chasing cats or lurking in bookstores, she writes books about magic, clocks, and explosives. She is the author of Timekeeper and Chainbreaker. Follow her on Twitter at @EachStarAWorld, and check out her website for fun Timekeeper extras.
Praise For…
---
"Firestarter is a magnificent ending to the Timekeeper trilogy. With its high stake sacrifices, heart-stopping action, and increasingly tender romance, this explosive final volume will give fans reasons to cry and reasons to cheer. I couldn't put it down." —Jessica Cluess, author of A Shadow Bright and Burning

Praise for Chainbreaker:

"You won't be able to put this one down." —Huffington Post

"Chainbreaker is an elaborate tale of magic, gods, and the beautiful, unfortunate humans caught in an ancient titanic struggle. You'll cheer. You'll cry. And once you enter this world, you'll never want to leave." —Traci Chee, New York Times bestselling author of The Reader

"Mysterious, compelling, and urgent, Chainbreaker's scintillating prose, complex and multi-dimensional characters, and quick pace will pull you in till it leaves you breathless and transformed." —Aditi Khorana, author of The Library of Fates and Mirror in the Sky

"Expands on the universe created in Timekeeper, with new mythology, character development and international intrigue that really highlights Tara's talent for world-building. Chainbreaker combines factual historical research with a believable and original magic mythology to create a world that feels wholly real. With pacing and action running like clockwork, this is a startlingly unique series with a truly golden set of diverse characters." —Lauren James, author of The Next Together

"Riveting and complex . . . Tara Sim's newest fascinating tale full of magic, intrigue, and clocks will hook you." —TheMarySue.com

"A wonderfully diverse read with unforgettable characters you can't help but root for." —Bustle

"An imaginative and action-packed novel set against the backdrop of Indian uprisings against the British occupation." —Book Riot

"Our most anticipated sequel of the year." —Paste Magazine

" Sim continues to offer an action-packed adventure for her lovely queer couple, but Chainbreaker features a particularly vivid environment and dynamic new characters thanks to the author's personal cultural experiences." —BookMarked

Praise for Timekeeper:

Paste Magazine Best Book 2016
Barnes & Noble Teen Blog Best Queer Fantasy 2016

"Timekeeper is an extraordinary debut, at once familiar and utterly original. Between its compelling world, its lovely prose, and its wonderful characters, the pages flew by." —Victoria Schwab, #1 New York Times bestselling author

"Alive with myth, mystery, and glorious romance, Timekeeper will keep hearts pounding and pages turning til the stunning conclusion. Reader beware—there's magic in these pages." —Heidi Heilig, author of The Girl from Everywhere

"Timekeeper is a triumph. . . . If you read only one such book . . . let it be this one." —Bustle

"Timekeeper's premise is original and its world unique." —EW.com

"While the world is wildly interesting and fantastic, with broken clock towers that have left towns frozen in time, it's the emotional impact and diverse cast of characters that make this book soar . . . The resulting story is an exciting and inclusive one, drawing in elements of magic, mystical spirits, swoon-filled romance, and just so much more." —BookRiot

"Part mystery and part romance, this fantasy novel delves into what it means to grow up and make important decisions. With an easily relatable main character struggling to fit in, the novel has a realistic and contemplative voice. VERDICT: A must-have richly written fantasy novel that will have readers eagerly anticipating the next volume." —School Library Journal

"Sim creates a cast of complex and diverse characters, as well as a mythology to explain how the clock towers came to exist . . . an enjoyable, well-realized tale." —Publishers Weekly

"[M]ystery, LGBTQ romance, and supernatural tale of clock spirits and sabotage that explores how far people might go for those they love. Its strongest elements are the time-related mythology and the supernatural gay romance." —Booklist

"This LGBTQ steampunk romance sports a killer premise and admirably thorough worldbuilding, helpfully annotated in the author's afterword. The characters—even the bad guys—are sympathetically drawn and commendably diverse in sexuality and gender." —Kirkus Reviews

"An enjoyable start to a promising new trilogy." —BookPage

"Firestarter is a magnificent ending to the Timekeeper trilogy. With its high stake sacrifices, heart-stopping action, and increasingly tender romance, this explosive final volume will give fans reasons to cry and reasons to cheer. I couldn't put it down." —Jessica Cluess, author of A Shadow Bright and Burning