All Things Aside: Absolutely Correct Opinions (Hardcover)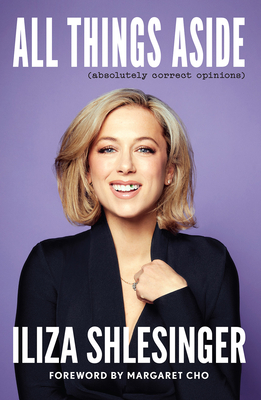 List Price: $27.00
Our Price: $21.60
(Save: $5.40 20%)
In Our Warehouse! Usually Ships in 2-6 Business Days
Description
---
"Vibrant and entertaining, relatable and poignant, and above all, it's funny." – Los Angeles Times

"Iliza is exceptionally funny. If this book doesn't make you laugh, it means you can't read. In which case, disregard." —Jimmy Kimmel
From the razor-sharp mind of comedian Iliza Shlesinger, a collection of hilarious and insightful essays about the exasperating issues of everyday life
"A book for everyone wrestling with what it means to show up for ourselves and the world today. I love Iliza, and I love her advice." —Rebecca Serle, New York Times bestselling author of One Italian Summer
"Send me a copy of your book and I'll read it." —Sharon Stone
"All Things Aside . . . is Iliza: fresh, funny, and a reinvention of the form." —Ted Sarandos, co-CEO, Netflix
All Things Aside is a punchy, honest, incisive book that shares a view of the world through the eyes of the inimitable Iliza Shlesinger. From the macro to micro, Shlesinger tackles it all with her no-bullshit comedic style.
Throughout the book, Shlesinger dives from one subject into the next, making her hilarious asides the meat of her stories, much like she does in her stand-up comedy. Topics range from dissecting social expectations to the notion that products marketed specifically to women are scams, and all manner of things in between. She even dares to ask herself the all-important question that every woman is forced to consider at some point—Am I actually an annoying person? Shlesinger also shares intimate moments, including a devastating miscarriage, which she manages to navigate not only with grace but somehow with side-splitting humor.
As Margaret Cho explains in the book's foreword, "Every woman has something to gain from the Everywoman Iliza presents in her hilarious and astute worldview. . . . I've learned [from Iliza] that you don't have to quit when you are in pain, that you can write your way out of the suffering. That there is beautiful truth to be unearthed from the depths of despair. That the stupid can be smart and that we put ourselves through hell for nothing."All Things Aside offers unexpected insights, much-needed truths, and tons and tons of laughs.
About the Author
---
Iliza Shlesinger is an award-winning comedian, actor, writer, producer, and author with five Netflix stand-up specials, including Elder Millennial and Unveiled. She's set to tape her sixth Netflix special in July 2022, and can currently be seen selling out theaters around the world on her Back in ActionTour. As an actor, Iliza most recently wrote and starred in the hit Netflix rom-con movie Good on Paper. Additionally, she played opposite Mark Wahlberg in the #1 Netflix film Spenser Confidential,and appeared in the critically-acclaimed indie drama Pieces of a Woman with Vanessa Kirby. Other credits include, Instant Family, starring Wahlberg and Rose Byrne, and The Iliza Shlesinger Sketch Show, a comedy series she created and starred in for Netflix. Her podcast, AIA: Ask Iliza Anything, is a fan favorite and features Iliza giving out her barefaced life advice and answering fans' questions. She currently lives in Los Angeles, California, with her husband, Noah, their newborn daughter, Sierra Mae, and their Chinese rescue dog, Tian Fu.