A Journey Into Mohawk and Oneida Country, 1634-1635: The Journal of Harmen Meyndertsz Van Den Bogaert, Revised Edition (Iroquois and Their Neighbors) (Paperback)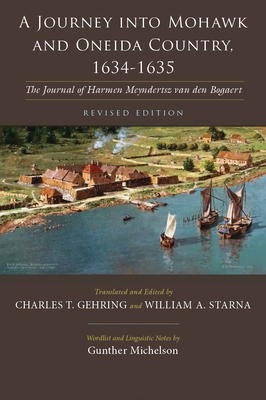 $20.95

In Our Warehouse! Usually Ships in 2-6 Business Days
Description
---
In 1634, the Dutch West India Company was anxious to know why the fur trade from New Netherland had been declining, so the company sent three employees far into Iroquois country to investigate. Harmen Meyndertsz van den Bogaert led the expedition from Fort Orange (present-day Albany, NY). His is the earliest known description of the interior of what is today New York State and its seventeenth-century native inhabitants.
Van den Bogaert was a keen observer, and his journal is not only a daily log of where the expedition party traveled; it is also a detailed account of the Mohawks and the Oneidas: the settlements, modes of subsistence, and healing rituals. Van den Bogaert's extraordinary wordlist is the earliest known recorded vocabulary of the Mohawk language. Gehring's translation and Starna's annotations provide indispensable material for anthropologists, ethnohistorians, linguists, and anyone with a special interest in Native American studies. Michelson's current additions to the wordlist of Mohawk equivalents with English glosses (wherever possible) and his expert analysis of the language in the Native American passages offer a valuable new dimension to this edition of the journal.
About the Author
---
Charles Gehring is the translator of numerous Dutch colonial manuscripts and author of many articles on New York State history and New Netherlands history. William A. Starna is professor emeritus of Anthropology at the State University of New York College at Oneonta, and adjunct professor emeritus of Geography, Queen's University, Kingston, Ontario. He is the author of numerous scholarly articles and several books, most recently From Homeland to New Land: A History of the Mahican Indians, 1600-1830 (2013).