Skin City: Behind the Scenes of the Las Vegas Sex Industry (Paperback)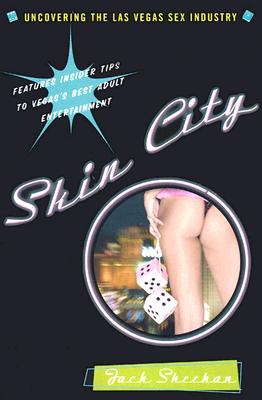 List Price: $14.99
Our Price: $14.24
(Save: $0.75 5%)
In Our Warehouse! Usually Ships in 2-6 Business Days
Description
---
Part exposé, part x-rated travel guide -- the ultimate insider's look at America's adult playground
Vegas. It's a place where Midwestern couples become uninhibited swingers, where shy schoolgirls morph into sexy strippers pulling in $1,000 a night, and where randy tourists come to score at more than just blackjack and craps. What happens here, stays here -- and Vegas nightlife is hotter than it's ever been before.
In Skin City, journalist and longtime Vegas resident Jack Sheehan goes beyond the bright lights to explore the dark thrills of the city's sex industry. Both lurid and fascinating, here is an unabashed look at the stripping, swinging, hustling, and hooking that have turned a desert gaming metropolis into the world's capital of lascivious entertainment. But more than a no-holds-barred exposé, Sheehan's Skin City offers a connoisseur's catalogue of where to go for readers whose tastes run to the erotic -- with everything from valuable pointers from lap dancers, call girls, and vice cops to porn star Jenna Jameson's list of her favorite Vegas strip clubs.
About the Author
---
Jack Sheehan has written eleven books, including The Players: The Men Who Made Las Vegas; Buried Lies: True Tales and Tall Tales from the PGA Tour and Embedded Balls, both with professional golfer Peter Jacobsen; and The Class of '47, a profile of the USNA class from Annapolis that is arguably the most distinguished military class ever. He has sold three screenplays to Hollywood. Sheehan received the Nevada Film Commission Award for Outstanding Screenplay for Buddies, the Western States Outstanding Journalist Award for Feature Writing, and the Lowell Thomas Award for Best Travel Article in the United States for his essay "The Loneliest Road in America." He lives in Las Vegas with his wife, Carol, and two young children, J. P. and Lily.
Praise For…
---
"Once you've read SKIN CITY, you'll be too busy having fun to ever play another round of blackjack again!"
— Ron Jeremy, Porn Legend

"Jack Sheehan did a great job exposing the underbelly of Las Vegas. A really fast read."
— Oscar Goodman, Mayor of Las Vegas

"SKIN CITY is full of tips on negotiating Vegas' sexual landscape."
— Dallas Morning News

"Whether you love Vegas or think it's a modern day Sodom and Gomorrah...this book [is] impossible to put down."
— Chris Moneymaker, 2003 World Series of Poker Champion and author of MONEYMAKER

"To prospective Vegas conference attendees, Sheehan's effort well might prove invaluable.
— Booklist

"Nothing is safe in a major league locker room...my copy will be stolen more often than third base."
— Greg Maddux, Four-Time Cy Young Award Winning Pitcher

"[E]ntertaining."
— Library Journal

"This book was a true revelation to me, in more ways than I'd care to admit."
— Peter Jacobsen, PGA Tour star

"Fascinating to read and much to contemplate."
— Norm Clarke, Las Vegas Review Journal columnist

"Extremely well-written...goes on my shelf next to Hunter Thompson's Fear and Loathing in Las Vegas."
— John Irsfeld, author of Little Kingdoms and Rats Alley

"With an impressive roster of strippers, swingers, porn stars and prostitutes, Sheehan explores the very adult side of Vegas entertainment."
— Kirkus Reviews